Our Cali Meeting Spaces
For impressive meetings, unforgettable weddings, and signature social events in Cali, Cosmos Cali Hotel seamlessly blends contemporary urban style, personalized service, and sleek venues near Torre de Cali in north Cali.
With four well-equipped event spaces, we provide a flexible array of options for a meeting of up to 100 guests and a wedding or special event of up to 40 guests. From venues to menus to all the little details that make a gathering stand out, we will ensure that your function is unforgettable and perfectly planned.
The Cosmos Cali Hotel team is available to assist with any detail, from venue décor, audiovisual arrays, and tailored catering cuisine to special group rates on hotel accommodation for your guests.
Social Events
Immerse yourself in the charm when you celebrate your special day with us. Our magnificent hotels are an excellent choice to celebrate this important moment. Let your event specialist bring your magical Ceremony to life with world-class food, legendary service and attention to detail. We believe that every event is unique! That's why we offer a variety of inspirations to allow you to customize your special day down to the last detail.
- Benefits: Our venues, expert team, menu options, passion for details, accommodation for your guests.
Corporate Events
Hotel Cosmos Cali is a hotel specifically designed to host events in the North of Cali for companies and high-ranking executives. The rooms are fully equipped with state-of-the-art audiovisual equipment, internet and air conditioning. Each guest can choose the decoration and layout so that your business meetings and social events (catering for a maximum of 100 people) are as personalized and unique as possible.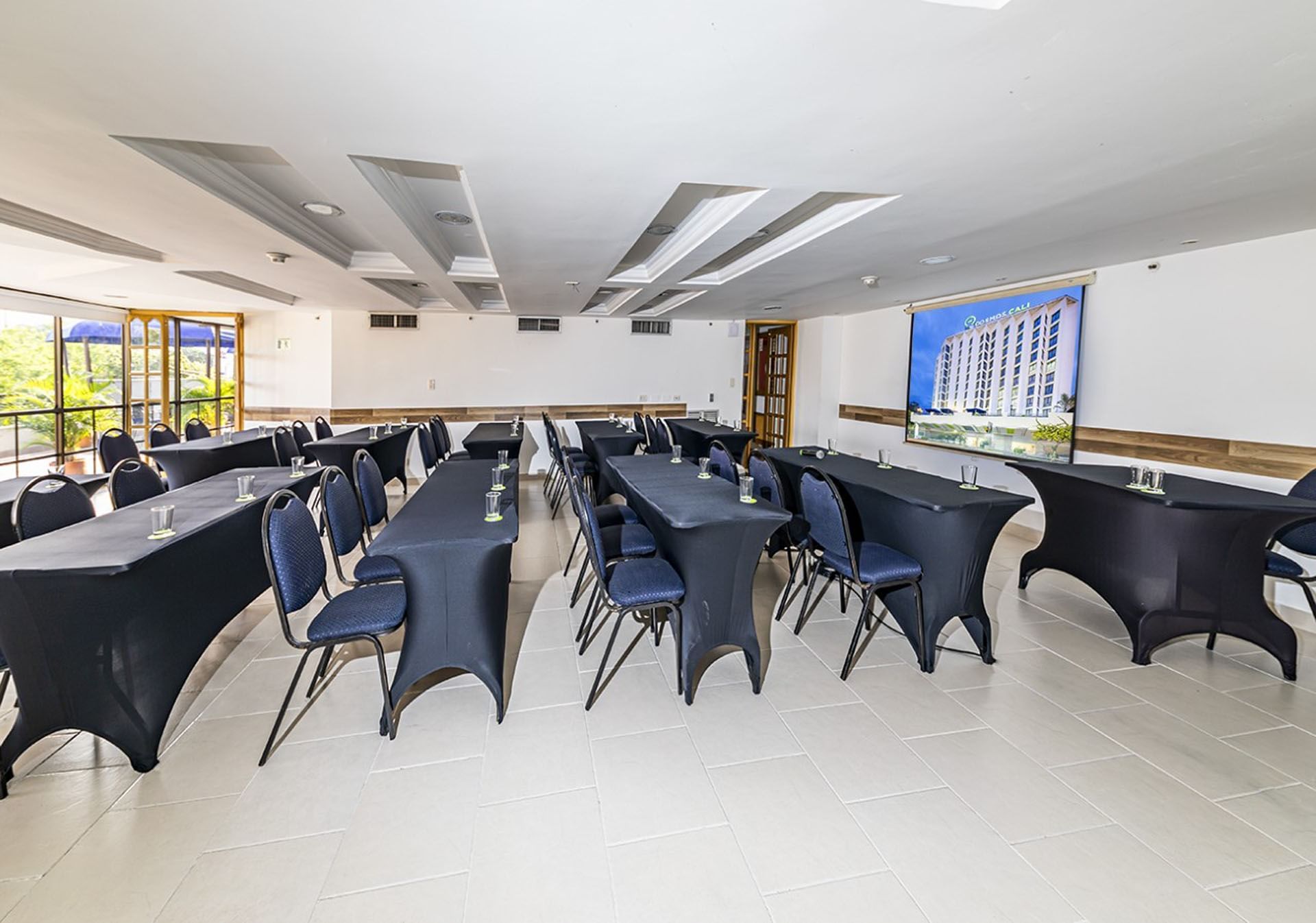 Capacity Chart
| | Coctel | Imperial | Banquete | Aula | U | Auditorio |
| --- | --- | --- | --- | --- | --- | --- |
| Xpress | 30 | 10 | 16 | 24 | 18 | 40 |
| Belalcázar | 60 | 25 | 40 | 40 | 40 | 80 |
| Versalles | 60 | 25 | 40 | 40 | 40 | 80 |
| Granada 1 | 35 | 20 | 30 | 24 | 24 | 45 |
| Salón V.I.P | - | - | - | 9 | 9 | 18 |

Coctel

30


Imperial

10


Banquete

16


Aula

24


U

18


Auditorio

40

Coctel

60


Imperial

25


Banquete

40


Aula

40


U

40


Auditorio

80

Coctel

60


Imperial

25


Banquete

40


Aula

40


U

40


Auditorio

80

Coctel

35


Imperial

20


Banquete

30


Aula

24


U

24


Auditorio

45

Coctel

-


Imperial

-


Banquete

-


Aula

9


U

9


Auditorio

18